PUMPKIN MUFFINS
---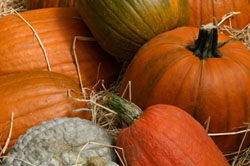 These taste like more than a holiday. They taste like an entire holiday season!
These days you can find high-quality organic canned pumpkin in many supermarkets. It's worth looking for. You can also substitute cooked sweet potato or winter squash (fresh or frozen/defrosted).
For a touch of texture, and to give more of a bitter edge (which I love) to the muffins, chop the orange peel, rather than grating just the zest (outer-most layer of color). The easiest way to do this is to shave off the peel with a vegetable peeler, then chop the shavings into small pieces with a sharp knife.
Nonstick spray for the pan
2 cups unbleached all-purpose flour
1/2 teaspoon salt (rounded measure)
1 1/2 teaspoons baking powder
1 1/2 teaspoons cinnamon
1 teaspoon ground ginger
1/4 teaspoon allspice
1 tablespoon granulated sugar
1 tablespoon grated or chopped orange zest
1/3 cup dark brown sugar (packed measure)
1 cup mashed pumpkin (or squash or sweet potato)
1 large egg
1/2 cup milk (plain soy milk will also work)
1 tablespoon vanilla extract
4 tablespoons (half a stick) unsalted butter, melted

Preheat the oven to 400°F. Lightly spray 8 standard-sized muffin cups with nonstick spray.
Combine the flour, salt, baking powder, spices, granulated sugar, and orange zest in a medium-sized bowl, and stir until well blended. Crumble in the brown sugar, and mix with a fork and/or your fingers until thoroughly combined.
Measure the pumpkin (or squash or sweet potato) into a second medium-sized bowl. Add the egg, milk, and vanilla, and beat with a fork or a whisk until well blended.
Slowly pour this mixture, along with the melted butter, into the dry ingredients. Stir with a spoon or a rubber spatula from the bottom of the bowl until you have a uniform batter. Don't overmix.
Spoon the batter into the prepared muffin cups. (I find it easiest to use two soup spoons for this: One to scoop up the batter and the other to push it into the cup.) For smaller muffins, fill the cups about 4/5 of the way. For larger muffins, fill them even with the top of the pan. If you have leftover batter, spray one or two additional muffin cups with nonstick spray, and put in as much batter as you have.
Bake in the center of the oven for to 20 to 25 minutes, or until lightly browned on top, and a toothpick inserted all the way into the center comes out clean. Remove the pan from the oven, then remove each muffin from the pan, and place on a rack to cool. Wait at least 30 minutes before serving.
photo courtesy of iStock