Marinated Miniature Artichokes
---
Adapted from Still Life with Menu Cookbook
Preparation time: 15 minutes to prepare, 45 minutes to cook, and at least 1 hour to cool
Yield: 6 appetizer-sized portions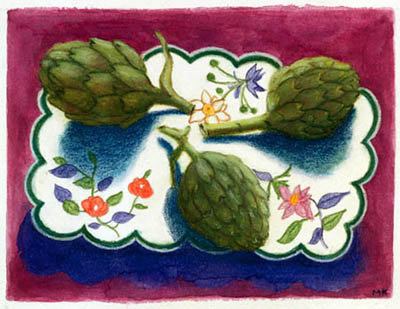 One of the nice things about small artichokes is that with just a touch of trimming, the entire globe is edible. The choke has not had a chance to develop, so there is mostly just tender heart.

This recipe is very easy to prepare and keeps well for up to a week if stored in a tightly covered container in the refrigerator.


1 1/2 pounds small artichokes (2-inch diameter or less)
3 cups water
Juice from 1 medium-sized lemon
1/3 cup red wine vinegar
1/3 cup olive oil
1 1/2 teaspoons salt
1 tablespoons whole or slightly bruised peppercorns
4 medium-sized cloves garlic, peeled and halved

To trim the artichokes, cut off the tips and the ends of the stems. Use scissors or a paring knife to shave off any extraneous outer leaves. You may leave the artichokes whole, or halve or quarter them, depending on their size and your preference.
Place the artichokes in a saucepan with all the other ingredients. Bring to a boil over high heat, then lower the heat to low. Let them simmer uncovered for another 40 minutes, or until the liquid reduces to approximately 1 cup. (This does not have to be exact!)
Remove the pan from the heat, and cool to room temperature. You can eat the artichokes at this point, or refrigerate them (include all the liquid) in a tightly covered container. If stored this way, they will keep for at least two weeks, although you are unlikely to be able to resist them for this long.