Lemon-Nut Torte with Orange Topping
---
Adapted from:
Still Life with Menu
Preparation time: 1 1/2 hours, including baking and glazing
Yield: About 8 servings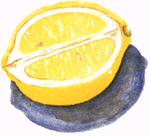 Elegant, impressive, delicious–and really easy.
It is not necessary to blanch the nuts for this cake, but you may do so if you prefer a more ethereal result. To blanch, spread the whole hazelnuts or almonds on a cookie sheet and bake at 350°F for about 15 minutes. Cook, then rub off the skins with your fingers.
SANITY NOTES:
•Separate the eggs well ahead of time, so they can come to room temperature.
•Grate the zests for both the cake and the glaze before squeezing the juice.
The Cake
---
6 eggs
1 tablespoon soft butter for the pan
1 cup hazelnuts or almonds (Blanched or not. See above.)
1/2 teaspoon salt
1 cup confectioners' sugar (divided use)
3 tablespoons fresh lemon juice
2 tablespoons grated lemon zest
1/4 cup unbleached white flour
Separate the eggs, placing the yolks in a small bowl and the whites in a large one. Cover both bowls, and let sit at room temperature for at least an hour.
Preheat oven to 350°F. Generously butter the bottom of a 9-inch springform cake pan.
Place the nuts in a food processor with the salt and 2 tablespoons of the sugar. Pulse until the nuts are ground to a powder. Set aside.
Beat the egg whites at high speed, gradually adding 2 tablespoons of the sugar, until they form soft peaks. Don't clean the beaters.
Add the remaining lemon juice and zest to the yolks, and beat them with the used beaters until silky smooth. Pour the beaten yolk mixture over the beaten whites, and gently fold together.
Sprinkle the ground nuts and the flour over the batter, and fold them in until the mixture is thoroughly combined but still nice and puffy. (Don't overmix)
Transfer to the prepared pan, and bake in the center of the oven for 3) to 35 minutes, or until a sharp knife inserted all the way into the center comes out clean. Cool for 10 minutes before removing the rim of the pan, then cool completely before topping.
The Topping
---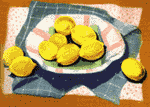 1 tablespoon cornstarch
2 tablespoons sugar
1 tablespoon grated orange zest
1/4 cup orange juice
1 tablespoon fruity liqueur (orange or berry)–optional
1 cup fresh orange sections
Place the cornstarch, sugar, and orange zest in a small saucepan.
Whisk as you drizzle in the orange juice and optional liqueur. Whisk until smooth.
Place over medium heat and bring just to boiling point, whisking constantly. Cook, still whisking, until thick and glossy. This will take about 2 minutes.
Pour the hot glaze over the top of the cooled cake. Garnish with the orange sections whittle the glaze is still hot. Allow to cool for 30 minutes before serving.