by Mollie Katzen
molliekatzen.com
Make 4 servings (8 big, fluffy pancakes)
Adapted from The Heart of the Plate: Vegetarian Recipes for a New Generation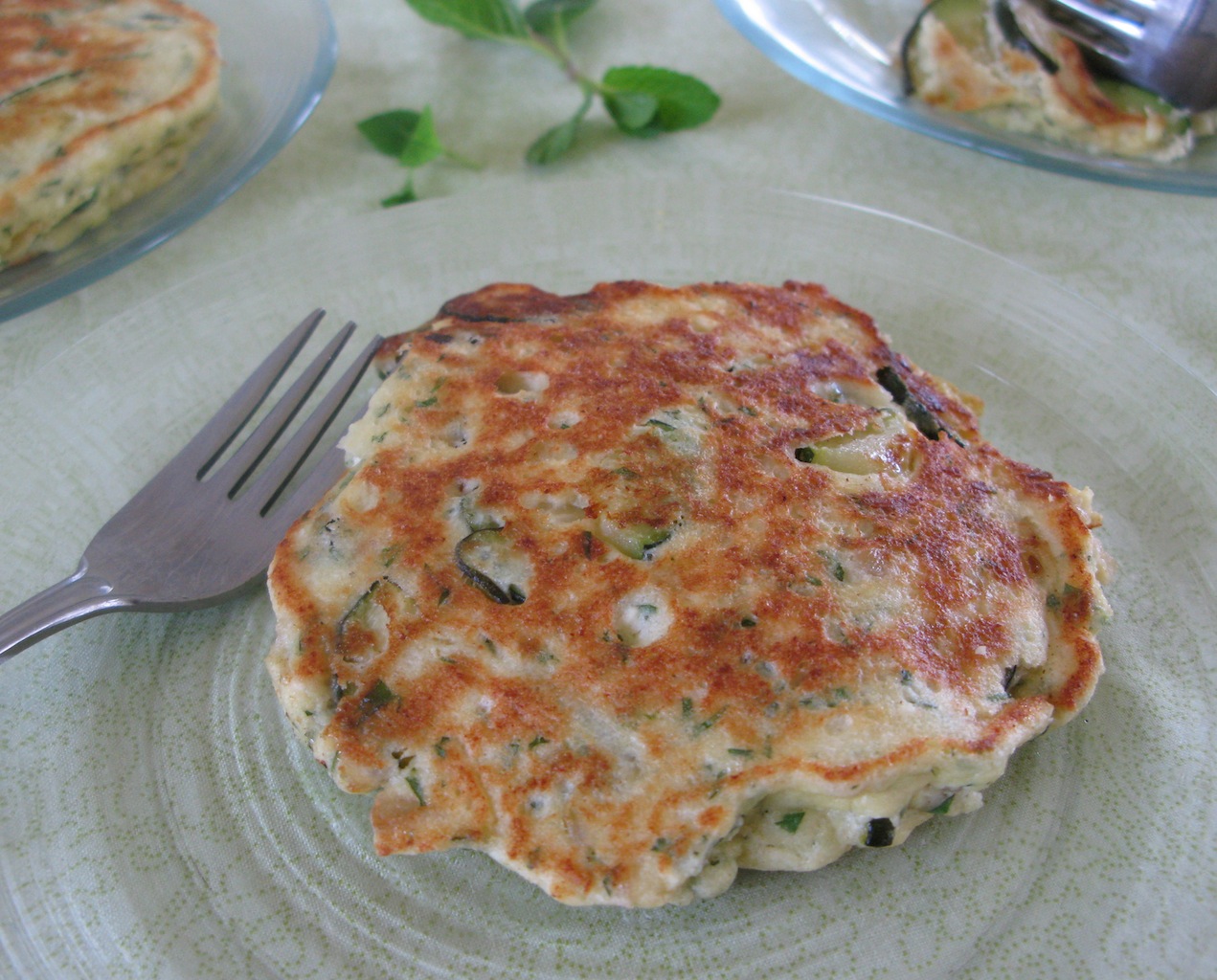 This is one of those privileged items that requires its eaters to be ready and waiting, and not the other way around. In addition, your guests must be willing to eat these when they (the cakes) (not the guests) are good and ready, as each cloud is at its peak of puffy splendor immediately off the griddle. The rest is one big sigh – pancakes and diners exhaling in blissful unison.
• Serve these with a good salsa or some Romesco sauce and or/a dab of crème fraîche. It makes a lovely brunch accompanied by a big salad, dotted with fruit and nuts.
• Consider making these in two large pans— or on one large griddle, and more people will be able to enjoy the results at the same time.
• You can use any kind of ricotta, but the higher-end the cheese, the more transcendent the result. So, consider splurging on the best fresh cheese you can find. Maybe even make your own.
• Separate the eggs far enough ahead of time to allow them to get to room temperature. Place both yolks and whites in bowls large enough to accommodate additional ingredients and unabashed mixing, and cover them (plate or plastic wrap) while they stand.
• In the unlikely event that you are faced with leftover batter, you can relax in the knowledge that it will keep for about a day in a tightly covered container in the refrigerator. Second day Cloud Cakes will still be delicious—just less inflated.
About 2 tablespoons olive oil
¾ cup finely minced onion
1 medium (7-ounce, 7-inch) zucchini, sliced into very thin (1/8 inch-thick) quarter circles
1 teaspoon minced or crushed garlic
½ teaspoon salt
1 teaspoon white wine vinegar
Black pepper
3 large eggs, separated and at room temperature (see note, above)
1 cup ricotta cheese (preferably whole milk)
1/3 cup unbleached all-purpose flour
3 tablespoons minced fresh mint leaves (or more to taste)
A touch of butter (optional)
Nonstick cooking spray (optional)
Place a medium-sized (8- to 9-inch) skillet over medium heat and wait for about a minute, then add 1 tablespoon of the oil and swirl to coat the pan. Toss in the onion, and cook, stirring often, for about 5 minutes, or until the onion becomes soft. Stir the zucchini, garlic, and 1/4 teaspoon of the salt, and continue to cook, stirring occasionally, for about 5 minutes longer, or until the zucchini is wilted. Toss in the vinegar and some black pepper, and set aside.
Use a handheld electric mixer to beat the egg whites until they form soft, firm peaks. Set aside, keeping the mixer handy (don't clean it yet).
Add the ricotta to the egg yolks, and begin mixing with the electric mixer at medium speed. After a minute or two, lower the speed, and keep it going slowly as you sprinkle the flour plus another ¼ teaspoon salt. When the dry items are completely incorporated, put aside the mixer, and use a rubber spatula to fold in the cooked vegetables and the mint.
Spoon the beaten egg whites on top, then fold them in gently but assertively with a few quick strokes of the rubber spatula, circling down to the bottom of the bowl and around the sides. It doesn't need to be uniform—just be sure the whites are reasonably distributed.
Place a large (10- to 12-inch) skillet over medium heat and wait for about a minute. Add a scant ½ tablespoon olive oil and swirl to coat the pan. Melt in about a teaspoon of butter, if desired, and tilt the pan to distribute the butter. When it's hot enough to instantly sizzle a crumb, use a 1/3-cup measure (coated with nonstick spray, if you like) with a handle to scoop batter into the hot pan, and fry for about 2 to 3 minutes on each side, or until golden and puffy. Serve right away.