by Mollie Katzen
molliekatzen.com
4 to 6 servings
Adapted from The Heart of the Plate: Vegetarian Recipes for a New Generation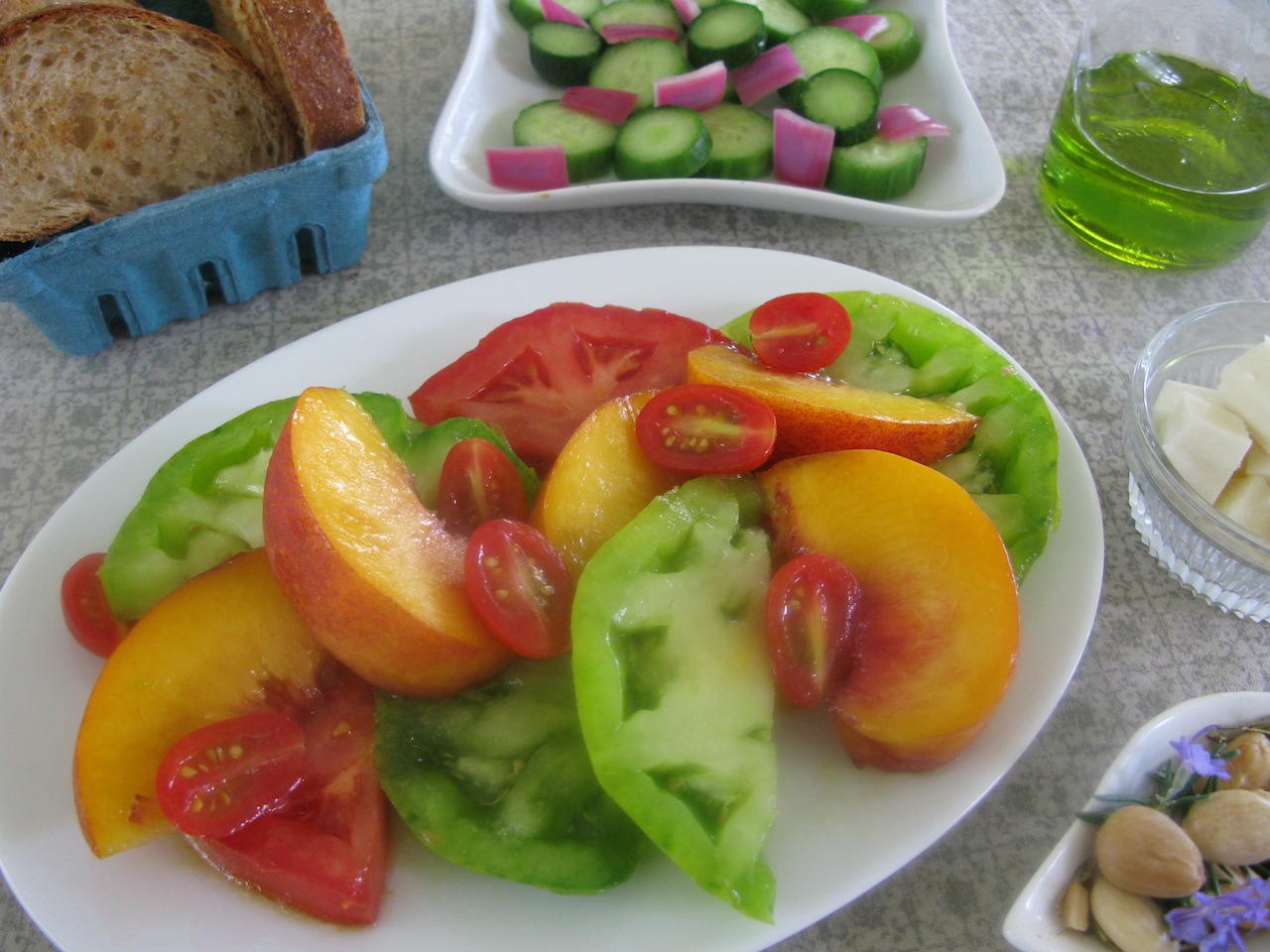 An ode to the peak of the peach and tomato season.
A traditional panzanella ("little swamp" in a Tuscan dialect) is a bread salad with a lot of tomatoes, some olive oil, possible cucumbers, and other accoutrements. A delicious strategy for reconstituting stale bread, it is normally a pleasantly mushy affair, with yesterday's bread having absorbed today's tomato juices and olive oil into a little swamp of summer flavor, and hence, the name.
This panzanella is different.
Rather than being thrown into the heap to swampify, the bread is reincarnated as grilled toast, and served on the side as an eager sop for an expanded cucumber salad that has been graced with thick slices of perfect summer peaches and vine-ripened tomatoes.
• Make the cucumber salad at least an hour—and up to a day—ahead of time. Note that seasoned rice vinegar is the kind that is slightly salted and lightly sweetened. Not the same as plain. It should be readily available in the Asian foods section of any grocery store.
1 medium-sized red onion
¼ cup seasoned rice vinegar
4 small (6-inch) sweet cucumbers—peeled if skin is bitter, and cut into ½-inch chunks
2 to 3 medium-sized perfectly ripe heirloom tomatoes (a pound or more)
2 to 3 medium-sized perfectly ripe peaches or nectarines (about a pound)
Extra-virgin olive oil (about 1 tablespoon for the bread, the rest to put on the table as a condiment)
5 or 6 thick slices ciabatta or another artisan bread (about 1/2 pound) – fresh or day-old
Optional Extras:
• Diced fresh cheese (Mexican queso blanco, ricotta salata, manouri, feta)
• Fresh basil, in thin strips
• Marcona almonds (mixed with crumbled rosemary = extra nice)
• Olives
• Black pepper
Put up a kettle of water to boil. Meanwhile, peel the onion and cut it into 1/2-inch pieces, then place them in a colander in the sink. When the water boils, pour it over the onion pieces and let them drain briefly. Transfer the onions to a medium-large bowl, douse it with the vinegar, then let it sit for at least an hour ( longer is okay).
When the onion has cooled, add the cucumbers and toss to coat. Set aside – either at room temperature (if you'll be serving this soon) or cover and refrigerate until serving time.
Shortly before serving, thickly slice the tomatoes and peaches, (generous wedges), and layer them on a plate or a platter with a rim. Drizzle with 2 to 3 tablespoons of the olive oil and place the platter on the table.
Arrange the cucumber preparation, plus any or all of the "optional extras" on the table as well.
Have a basket or bowl ready and waiting for the bread. You can either toast the bread and brush the warm pieces with olive oil, or brush them with oil first, and then grill them lightly on both sides in an un-oiled skillet over medium heat. (Watch them carefully, so they don't burn.) Cut in half diagonally to make charming triangles, if desired, and bring the warm toasts to the table, along with a cruet of extra olive oil, just as people are sitting down.
Pass everything around, letting each person create his or her own customized plateful. Have fun catching/sopping the dripping juices with the toasts!