by Mollie Katzen
molliekatzen.com
6 to 8 servings
From The Heart of the Plate: Vegetarian Recipes for a New Generation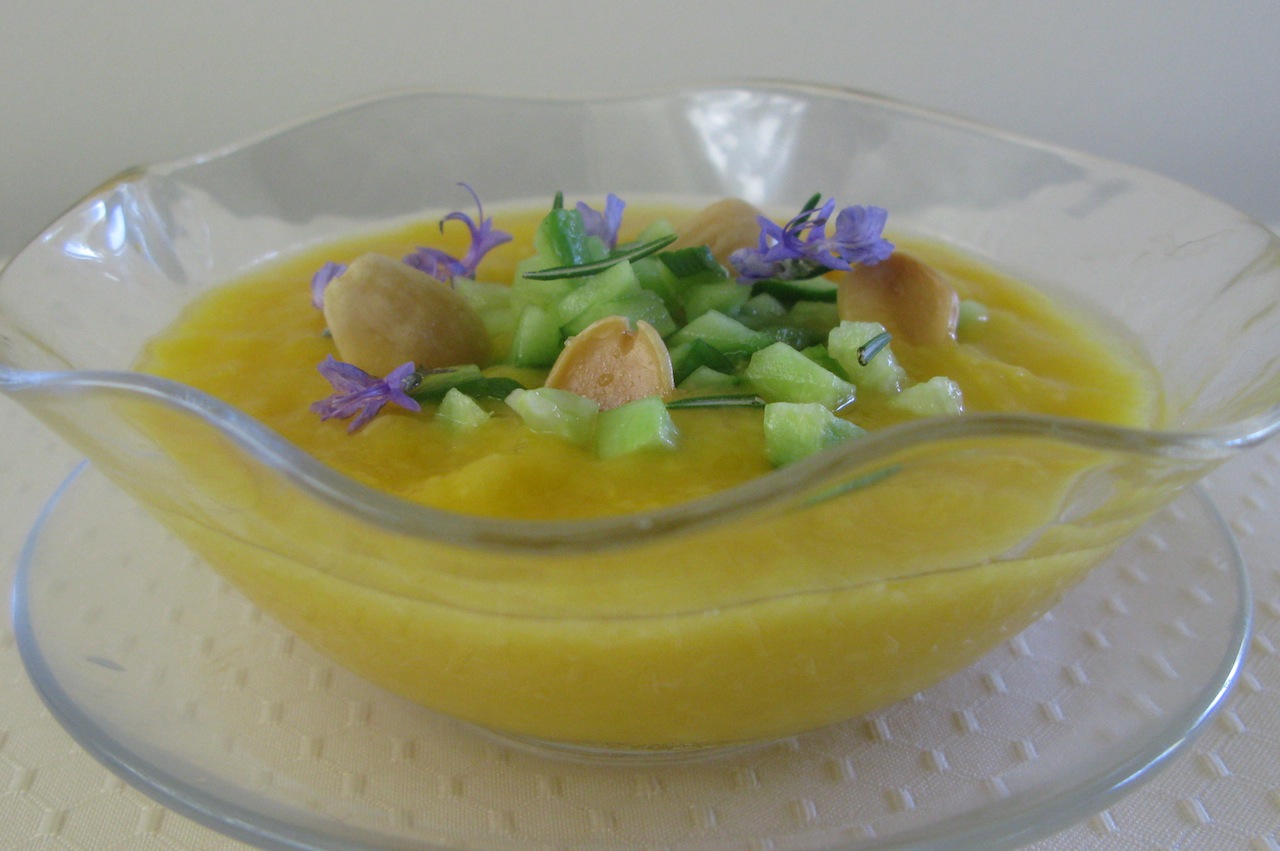 I started out trying to create my own version of an ajo blanco – white, garlicky gazpacho made from puréed blanched almonds and bread. Many unsatisfactory tests later, I ended up deep-sixing the bread and almonds because I could not love their texture. Keeping the garlic and sherry vinegar, I then wandered into golden fruit territory, and deliciousness ensued.
• Choose smooth-surfaced nectarines, heavy for their size and fragrant. They should also give ever-so-slightly when gently squeezed.
• This is a good excuse to purchase a bottle of sherry vinegar, which is wonderfully potent and, when sniffed, leaves no doubt as to its origin. The cider vinegar lends another acidic element that pushes back nicely against the sweetness of the fruit.
• Very good olive oil makes all the difference here.
• This soup will keep for about 5 days, tightly covered and refrigerated.
• Seriously consider the suggested enhancements. So pretty!
1 pound frozen mango chunks (no need to defrost) - or 3 pounds fresh mangos (3 or 4), pitted, peeled, and chopped
2 medium-sized perfectly ripe nectarines, pitted and in chunks
1 teaspoon minced or crushed garlic
½ teaspoon salt, or more to taste
1 tablespoon fresh lime juice
2 tablespoons sherry vinegar
1 tablespoon cider vinegar
¼ cup extra-virgin olive oil
Up to 4 cups cold water
Optional Enhancements
• Roasted almond oil drizzled lightly on each serving
• Very finely minced cucumber
• A touch of chopped or crumbled rosemary (blossoms included, if available)
• A few Marcona almonds
• Cooked, peeled beets of a contrasting color (magenta or pink) - minced, sliced or grated on top
• Small toasts brushed with roasted almond oil
Combine the mangos, nectarines, garlic, ¼ teaspoon salt, lime juice, and vinegars in a food processor, and process until uniformly blended.
Keep the machine running while you drizzle in the olive oil. When it's incorporated, transfer the mixture to a large bowl (ideally one with a tight fitting lid).
Stir in cold water until it reaches your preferred consistency, and then adjust the salt to taste. You can serve it now (especially if it's still quite cold from the frozen mangos), or refrigerate it to let the flavors meld.
Serve cold, garnished beautifully with your chosen enhancements.