by Mollie Katzen
molliekatzen.com
6-8 servings
From The Heart of the Plate: Vegetarian Recipes for a New Generation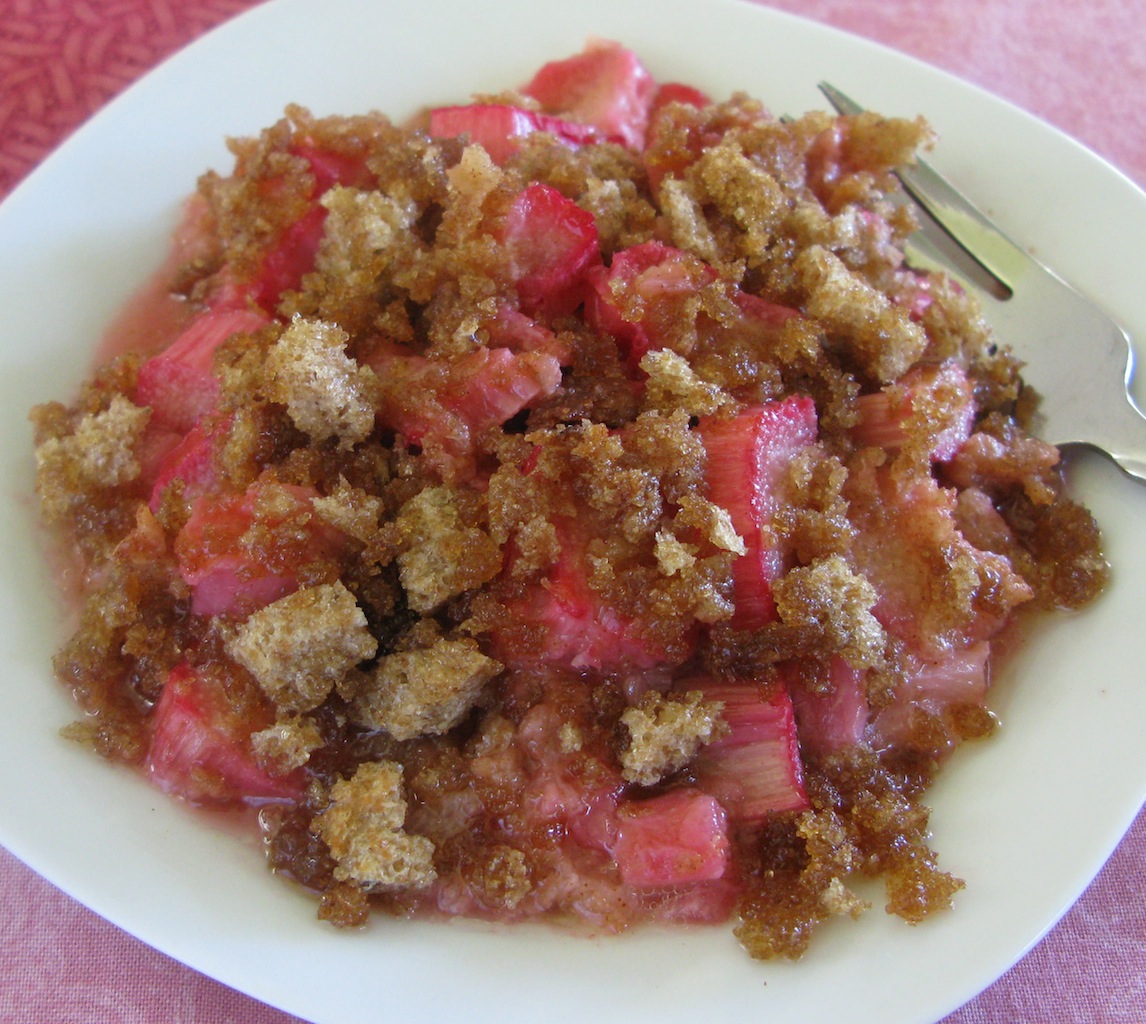 The fleetingness of the rhubarb season adds a note of existential breathlessness to this otherwise grounded (and supremely lovely) dessert. A new signature dish for spring is now all yours.
Serve with some excellent vanilla ice cream or some honeyed-up Greek yogurt — or with a platter of cheeses and a little bowl of roasted walnuts.
• Make the bread crumbs ahead of time. To do so, toast a few slices of your favorite commercial whole wheat bread, and then break them into pieces and run through the food processor until fairly fine. Measure out a cup for this recipe, and then store any extra in a heavy gauge zip-style plastic bag in the freezer for other things.
2 pounds rhubarb (8 or so jumbo stalks)
3 tablespoons unsalted butter
1 cup brown sugar
1 cup whole wheat bread crumbs
1 teaspoon cinnamon
1 tablespoon granulated sugar
1 tablespoon grapeseed oil – or whatever your everyday kitchen oil is
Pinch of salt
1) Preheat the oven to 400°F. Meanwhile, chop the rhubarb into ¼-inch slices.

2) When the oven is hot, place 2 tablespoons of the butter in a 9 X 13-inch baking pan and set it in the oven for a few minutes until the butter melts and the pan becomes hot.

3) Use an oven mitt or pot holder to carefully remove the pan from the oven, and swirl to distribute the butter.

4) Scatter the chopped rhubarb in an even-ish layer and put the pan back in the oven for 20 minutes. Interrupt once or twice during this time to shake the pan to mix the butter into the fruit.

5) After 20 minutes, shake the pan again. Remove/reserve one tablespoon of brown sugar from the cupful, then sprinkle the remaining brown sugar over the rhubarb. Shake or stir – or both – to coat, then return the pan to the oven while you quickly prepare the topping.

6) Combine the bread crumbs with the cinnamon, granulated sugar, reserved tablespoon brown sugar and possible dash of salt. Melt (in a microwave for 20 seconds) the remaining tablespoon of butter and add this, along with the tablespoon of oil. Toss with a fork until uniform, then sprinkle this over the top of the rhubarb.

7) Return the pan to the oven for about 10 to 12 minutes, or until the mixture is bubbly around the edges. Remove and cool to desired eating temperature, which should arrive no sooner than a good 15 or 20 minutes, so as not to burn your mouth. Serve accompanied by some ice cream or yogurt - or with cheese and nuts. It's also good entirely plain.