by Mollie Katzen
molliekatzen.com
6 - 8 servings
From The Heart of the Plate: Vegetarian Recipes for a New Generation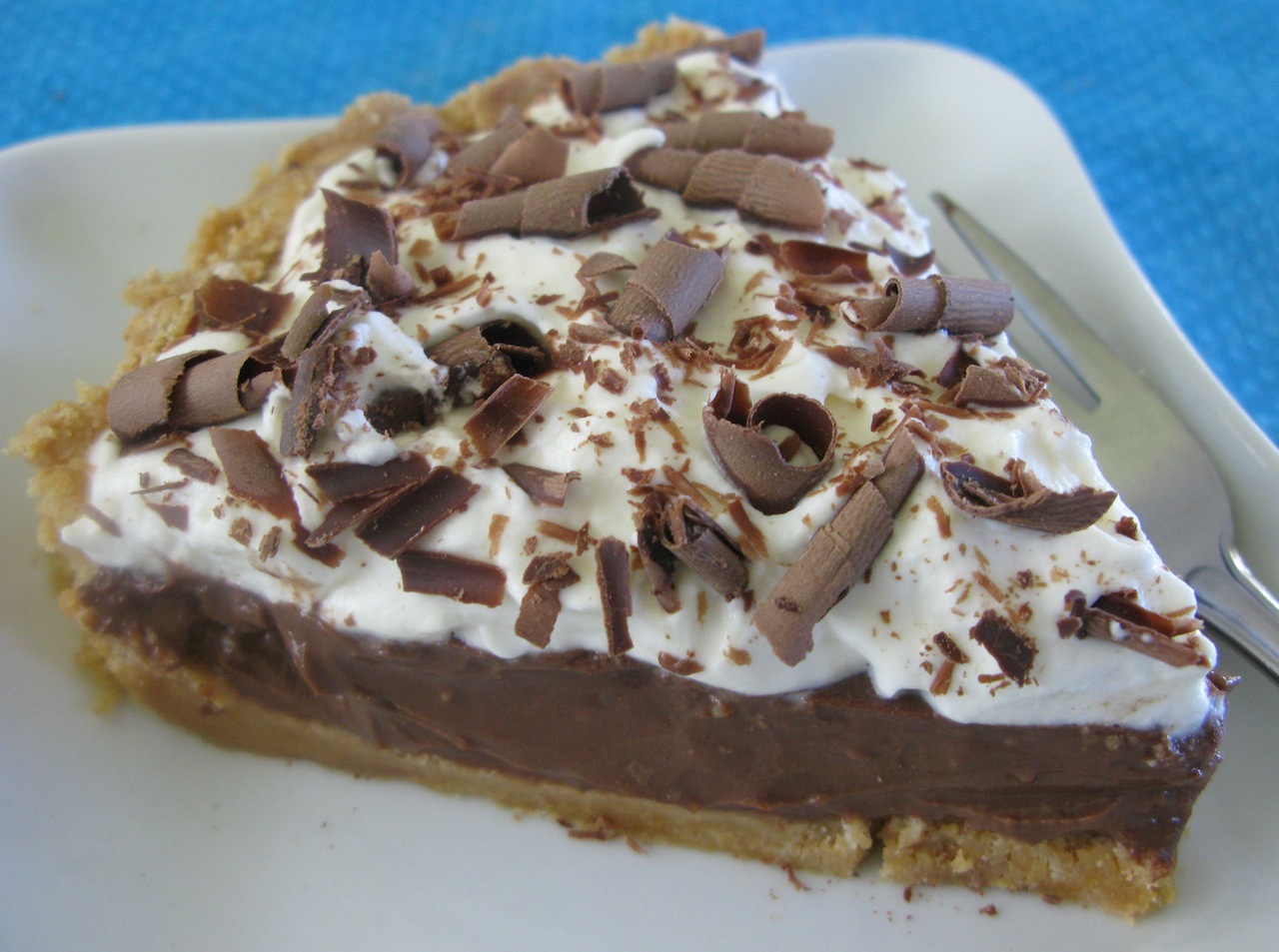 Dark chocolate pudding relaxes into a vanilla cookie crust and gets flounced with a nimbus of whipped cream. Bonus: your oven gets the day off.
• For a delicious vegan version, use vegan cookies or graham crackers and grapeseed or canola oil in the crust, and substitute soy milk in the filling. The vegan whipped cream option is made with coconut cream, available in Asian markets or the imported food section of many grocery stores (or online). It comes in cans, similar to coconut milk (but not the same thing). I use Chaokoh brand.
• The best cookies to use for the crust are Leibniz European Butter Biscuits, available in gourmet aisles and shops in most places. You can also use any delicious-on-its-own plain vanilla cookie or graham crackers.
• Prepare and assemble the crust and filling at least 4 hours — and up to a day—before you serve the pie. It needs to chill. Whip the cream shortly before serving. • Vegan whipped cream should be made at least an hour ahead, as it needs time to chill.
• The range of sugar in both the filling and the topping is to accommodate various preferences for sweet and less sweet. Unless you posssess a die-hard sweet tooth, consider trying this at the lower end the first time you make it, and adjust upwards from there.
Crust
7 to 8 ounces plain vanilla cookies
½ cup (1 stick) unsalted butter, melted
Filling
1 cup semisweet chocolate chips
2 cups milk
2 to 3 tablespoons sugar (granulated or light brown, packed)
1 teaspoon pure vanilla extract
3 tablespoons cornstarch
1/8 teaspoon salt
Whipped Cream
½ pint heavy cream (cold)
2 to 3 tablespoons confectioners sugar
1 teaspoon pure vanilla extract
-or-
Vegan Whipped Cream
A 13 1/2-ounce can coconut cream
2 tablespoons sugar
1/2 teaspoon pure vanilla extract
Big pinch of salt
Optional
Chocolate sprinkles, shaved chocolate, or chopped chocolate chips
Crust

1. Place the cookies in a food processor and buzz to fine crumbs. You should have about 2 cups.

2.Transfer the crumbs to a bowl, and pour in the melted butter. Mix to thoroughly combine, and then transfer to a 9-inch pie pan.

3. Spread it out to cover the bottom completely and evenly, letting it begin to climb up the sides of the pan. Pat it into place, gently at first, and then firmly—turning the pan as you go, and building a nice edge flush with the rim. Set aside while you make the filling.

Filling

1. Combine the chocolate chips, milk, sugar, and vanilla in the top of a double boiler or in a metal bowl placed over simmering water on medium-low heat. Cook until the chocolate is melted. This will take about 5 minutes - no stirring needed.

2. Place the cornstarch in a small bowl and stir in the salt. When the chocolate is melted and the mixture is warm, ladle a little into the cornstarch, and beat with a small whisk until it is completely dissolved. Immediately return this entire slurry to the original mixture, whisking it in.

3. Bring to a boil, stirring frequently (still in the double boiler - or directly over medium heat). Cook, stirring with a wooden spoon as it thickens, for another 10 minutes or so — until the mixture becomes slow-moving and glossy. (The thickness will originate in the bottom; whisk it upward. When the mixture shows some resistance to being stirred, it's ready.)

4. Remove from the heat, and pour the hot filling into the prepared crust. Let it cool to room temperature - about 40 minutes - then cover with plastic wrap and refrigerate until cold, at least 4 hours. Add the (cold) whipped cream shortly before serving.

Whipped Cream (either kind)

Combine the ingredients in a large-enough bowl, and whisk or beat with a hand-held electric mixer until the mixture forms soft peaks (regular whipped cream) or becomes uniform (vegan version). (With the regular whipped cream, be careful not to let it get too stiff.)
For the vegan version, chill until cold.
Use a rubber spatula to spread it evenly over the filling to the edge of the crust. If desired, sprinkle the top with a chocolate garnish of your choice.