by Mollie Katzen
molliekatzen.com
From The Heart of the Plate: Vegetarian Recipes for a New Generation
Yield: About 2 cups – enough to top 6 to 8 servings of this or that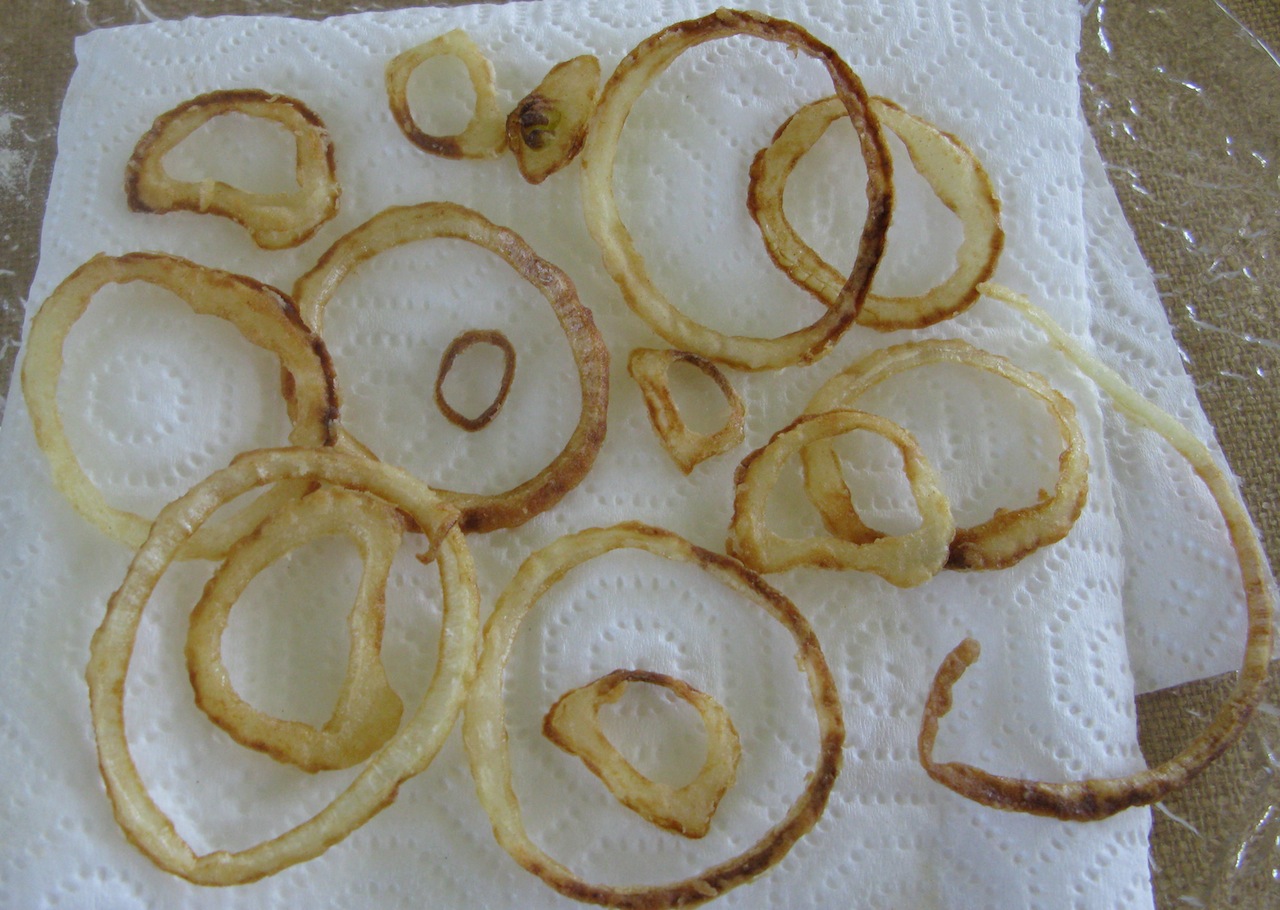 Thin to the point of transparent, with a whispery coating that all but disappears into the ephemeral crunch, these onion echoes melt so quickly in your mouth, you're not sure what just happened. It might have been a quick little dream, but the amazing, lingering onion flavor hints that what you just experienced was real. Just to check, you reach for another.
• Fry in batches, as necessary, in very hot oil until they are golden and crisp, then drain on paper towels. For best results, use high-oleic (also sometimes called "high heat") safflower oil or regular grapeseed oil.
• The oil doesn't need to be deep-fry deep, just as long as it is deep enough to cover the onion slices, and instant-sizzle hot before you add them.
• This goes fast —only a minute or so per batch. Eat them immediately, or let them sit out at room temperature until needed. They can also freeze incredibly well in heavy gauge zip-style plastic bags. As with many of the Crowning Touches in this section, these are great for snacking as well as for topping things, so consider making extra.
1 small (4-ounce) onion
½ cup unbleached all-purpose flour
1 teaspoon salt (plus possible extra)
5 or more tablespoons high-oleic safflower oil or grapeseed oil
Peel the onion and slice it whisper-thin (think, insect wings) on a mandoline. Be very careful to keep your eyes on your hands while doing this, as even the most experienced person can easily get cut if attention strays.
Arrange the slices in a single layer directly on a double pile of paper towels (or clean, absorbent cloth towels). Pat (and/or lightly squeeze) them dry with the towels, and let them sit and air out while you get the other things ready. You can let them air out like this for a good hour or so.
Combine the flour and salt in a medium-small bowl, mixing until uniform. Meanwhile, pour about 5 tablespoons oil into a large (10- to 12-inch) skillet, and place it over medium-low heat. Situate a plate with a triple pile of fresh paper towels, plus tongs, by the stove.
Add the onion slices to the flour mixture, gently shaking and forking them around to get them completely coated. Transfer about half of the coated slices to a strainer (not too fine a mesh) and shake off as much of the flour mixture as you —directly back into the bowl. The coating should be barely perceptible.
When the oil is hot enough to instantly sizzle a fleck of the coating, use a fork or tongs to carefully lay in the "strained" batch of onion slices, arranging them, more or less, in a single layer. It's okay if they are touching.
Keep the heat at medium as you fry this first batch until each piece stiffens and lightly browns. (The stiff part is more important than the color.) Use tongs to lift out the finished onions, transferring them immediately to the pile of paper towels on the plate. The entire frying process will likely take about a minute.
Repeat with the remaining onion slices. (Augment the oil, if and as needed. Just make sure it is very hot before adding the onion slices.) Note that this second batch might take a little bit longer to fry. Also, don't worry about the sediment that might collect in the bottom of the pan. It looks a bit like sludge, but it just an unintended roux from the combination of wayward flour and hot oil. Discard this when you're done.
Sprinkle the finished onion rings with a little additional salt, if you like, and enjoy them plain or on any number of items.