by Mollie Katzen
molliekatzen.com
Adapted from The Heart of the Plate: Vegetarian Recipes for a New Generation
5 - 6 Servings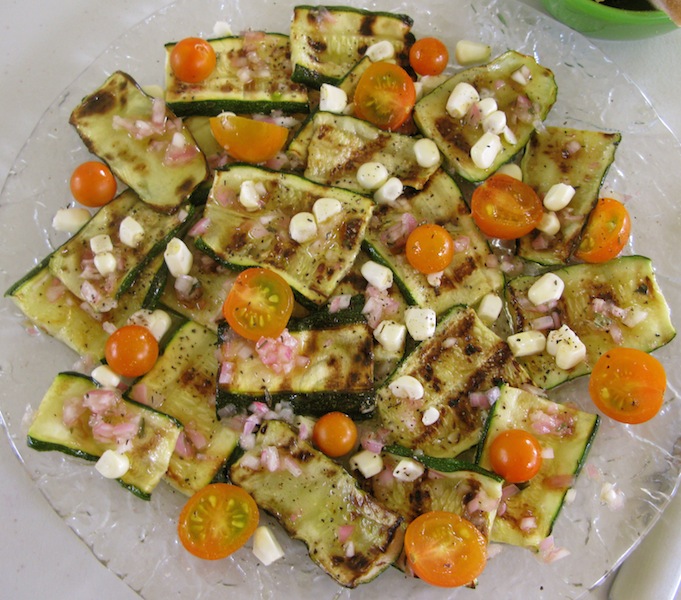 Zucchini gets smacked out of its introversion with a good dose of stove—heavy pan, slick of oil, confident heat. Without passing go, it heads directly into a garlic and shallot-infused vinaigrette, sealing the deal on its newfound personality upgrade. Cue the maximally sweet, in-season corn and tomatoes, and the makeover is complete.
The zucchini should be sliced very thin and then cooked very quickly, so it becomes almost like sturdy-ish vegetable riboons. Use a very sharp knife, as always—but especially here, so you can get fairly uniform slices. You can also use the slicing attachment of a food processor.
This tastes best at room temperature, within an hour of being made. If you want to prepare it further in advance, it's fine to let the zucchini sit (covered tightly and refrigerated), but hold off on adding the corn and tomatoes until shortly before serving.
1 ½ pounds small (4- to 6-inch) zucchini
3 tablespoons finely minced shallot
Up to 1 teaspoon minced or crushed garlic
3/4 teaspoon salt
2 tablespoons red or white wine vinegar, or cider vinegar
Big pinch of sugar
¼ teaspoon dried thyme
¼ teaspoon dried oregano
¼ cup extra-virgin olive oil (plus extra for the pan)
About 2 dozen very sweet, ripe cherry tomatoes
Kernels from 2 to 3 ears of fresh, sweet corn
Black pepper
Trim and discard the ends of the zucchini, then cut each squash into thirds widthwise. Set each cylinder on a flat end, and cut thin (1/8-inch) slices lengthwise. (Alternatively, you can run the thirds through a food processor with the slicing attachment.) You will end up with a pile of elegant, slender, elongated more-or-less bite-sized pieces.
Combine the shallot, garlic, vinegar, ¼ teaspoon of the salt, sugar, and herbs in a large, shallow bowl. Whisk to blend, and place it near the stove.
Set a ridged grill pan or a plain cast iron skillet over medium heat, and brush it lightly with olive oil. Wait about a minute, then place the zucchini slices on the hot surface in a single layer. Cook on both sides until just tender and decorated with golden grill marks (ridged pan) or just plain golden. Transfer the cooked zucchini directly to the marinade. You might need to do this in a couple of shifts.
Let the zucchini rest in the marinade to absorb the flavors for a minimum of 30 minutes. Longer is also fine.
Just before serving, stir in the tomatoes and corn, and add some black pepper to taste. Serve warm or at room temperature, with a scattering of any or all of the Optional Enhancements.
Optional Enhancements:
Minced sweet bell pepper
Pine nuts or walnuts
Small cubes of feta or crumbled goat cheese