Preparation time: A few minutes to assemble; 45 minutes to cook; plus time to cool and chill
Serve this chutney with any Indian dish, or on cheese sandwiches, with grilled tofu, chicken, meatless or regular burgers, or fish. You can basically use this wherever you'd use salsa.
NOTE: This keeps for weeks in the refrigerator.
2 pounds unripe tomatoes (about 6 medium-sized ones)–the greener, the better
2 tablespoons minced fresh ginger
1 teaspoon mustard seeds
1 teaspoon cumin seeds
1 teaspoon ground coriander
3/4 teaspoon salt
1/4 cup cider vinegar
1/4 cup brown sugar
1/4 cup granulated sugar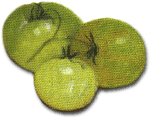 2 tablespoons minced garlic
Cayenne to taste
Dice the tomatoes, and put them in a medium-sized saucepan with all the remaining ingredients except the garlic and cayenne.
Bring to a boil, lower the heat, and siimmer uncovered for 45 minutes, or until everything is well mingled and very soft.
Add the garlic during the last 5 or 10 minutes of cooking. Cool to room temperature, then add cayenne to taste, and see if it needs more salt.
Transfer to a jar with a tight fitting lid, and refrigerate until cold.