Spring or Summer Frittat with Scallions, Roasted Garlic, Zucchini, and Crumbly Cheese
Adapted from the upcoming "Mollie Katzen's Sunlight Café" (Hyperion, September 2002)
Preparation time: 30 minutes
Yield: 4 to 6 servings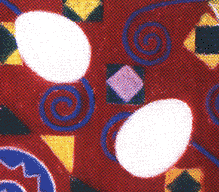 A frittata is a thick Italian omelet--sturdy and adaptable--and full of vegetables, herbs, and cheese. Frittatas are very convenient in that, unlike most other egg dishes, they can be made ahead and either reheated or served at room temperature, so you can avoid the hassle of last-minute preparations.
Here's a basic recipe that can change with the seasons Variations are included, and you can improvise even further--mixing and matching the different vegetables according to what is fresh at the market.
A frittata will keep for up to a week if stored in an airtight container in the refrigerator, and it reheats beautifully in a microwave.
Try taking a wedge of frittata with you for your "commute item" or as a midmorning meal at your desk--it's very portable.
2 to 3 tablespoons olive oil
2 small zucchini, thinly sliced
1/2 teaspoon salt
2 teaspoons minced garlic
8 eggs
6 medium scallions, minced (both white and green parts)
1 or 2 handfuls minced parsley
Freshly ground black pepper
1 cup ricotta salata or feta

Optional Additions
Fresh peas, lightly steamed
Minced fresh herbs (dill, savory, and/or basil)
Halved cherry tomatoes
Lightly toasted pine nuts
Place a 10-inch skillet with an ovenproof handle over medium heat for about 2 minutes. Add 1 tablespoon of the olive oil, wait about 10 seconds, then swirl to coat the pan. Add the zucchini and sautÚeacute; for about 5 minutes, or until just tender. Stir in the salt and garlic, cook for about 1 minute longer, and remove from the heat.
Break the eggs into a large bowl and beat well with a whisk. Add the sautÚeacute;ed vegetables, scallions, and minced parsley. (You can also stir in the optional additions at this time.) Grind in some black pepper, crumble in the cheese, and stir until blended. Clean and dry the skillet and return it to the stove over medium heat. Preheat the broiler.
When the skillet is hot again, add the remaining 1 to 2 tablespoons olive oil, wait about 30 seconds, and swirl to coat the pan. Pour in the vegetable-egg mixture and let it cook undisturbed over medium heat for 3 to 4 minutes, or until the eggs are set on the bottom.
Transfer the skillet to the preheated broiler, and broil for about 3 minutes, or until the frittata is firm in the center. Remove the pan from the broiler, and run a rubber spatula around the edge to loosen the frittata. Slide or invert it onto a large, round plate, and serve hot, warm, or at room temperature, cut into wedges.